Choosing a stock brokerage firm
Nowadays, there is a multitude of stock brokers and stock trading sites available online that makes it very easy even for small-scale traders to buy and sell company shares and invest in other financial instruments. No longer do you need to sign up with a broker who will be physically present in the trading pit of an exchange for you.
Picking the right retail broker online is not something to be taken lightly, because it can mean the difference between making a profit and staying in the red. Regretably, there is no one-size-fits-all here, so you need to do your own homework and find out which broker that is best for you and your trading style. In some cases, it is even best to sign up with more than one broker instead of trying to reach a compromise.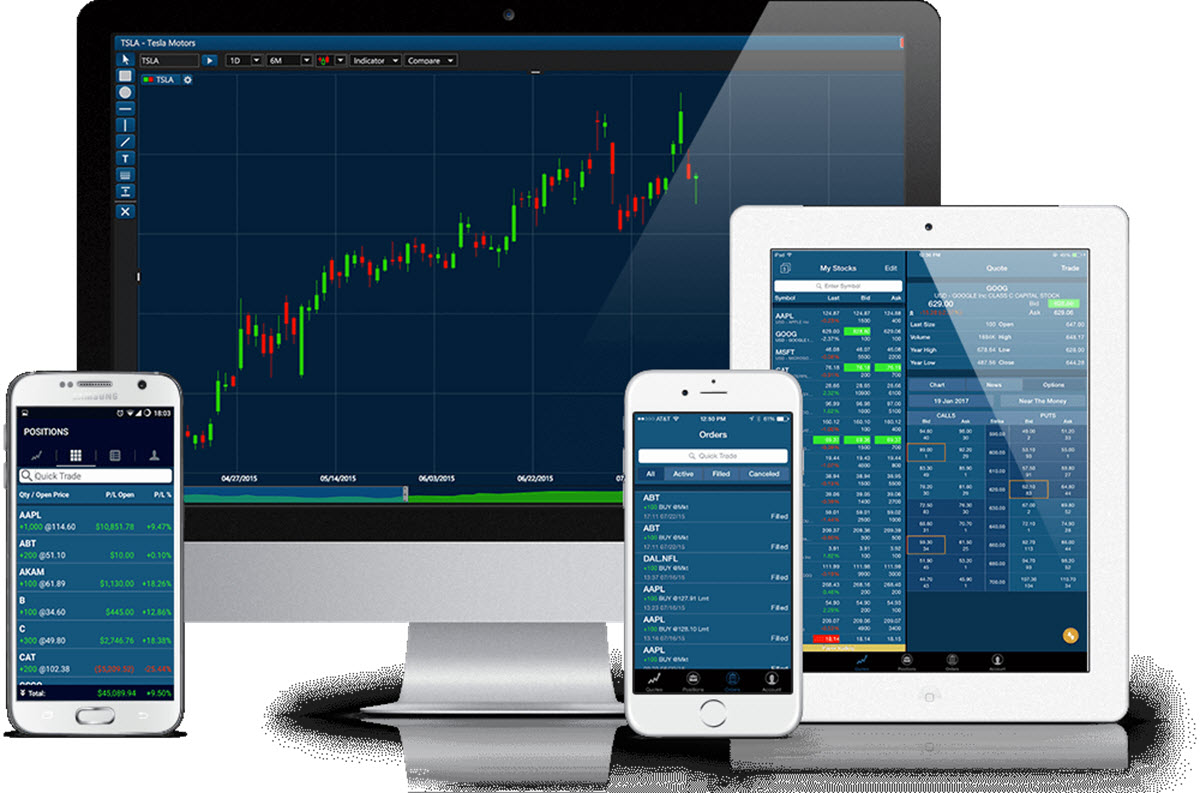 Here are a few things to keep in mind when evaluating different online trading sites:
What kind of share companies do you want to invest in, and are their shares available here? You don't want to be forced to tweak your investment strategy because the broker isn't offering the shares you want to buy.
Do you want to put together a Blue Chip portfolio only, or do you want something else as well? Are you particularly interested in a specific industry or sector, maybe one where you have some special insights? How about geographical regions; are you okay with NYSE, NASDAQ and LSE only, or do you want more variation?
Do you want to build an investment porfolio consisting of only company shares, or do you wish to mix it up a bit? Maybe including some exchange traded funds (ETF) or speculating on the option market? How about bonds, futures, commodity certificates, or contracts for difference? Regardless of your interests, make sure you pick a trading site that caters to them.
Note: Some investors keep these two things separate. They first sign-up with a trading site that fits them perfectly for stock trading, and then register with another trading site to do their other trading. Sometimes, you just don't feel like compromising.
How well does the trading platform work?
Many online trading sites will allow your to try out the trading platform for free using play-money. This is a great way to see how it works and if there are any problems. Here are a few things to look out for.
Is the platform fast enough for you, or is it lagging and slowing you down?
Is the platform consistently reliable, or will it freeze up or malfunction in any other way now and then?
How quickly can you execute a trade?
It's a good idea to check the platform during a few different times of the day, and both during weekdays and the weekend. You want it to work well, and not be slow, even during peak times.
Fees
What is included for free with this online broker, and what will you be paing fees for?
How does this online broker make money?
How is commission calculated? Is it different for different trade types or trade sizes?
Do I pay the same for market orders and limit orders?
Is there a minimum charge for trades?
Is the stop-loss feature free of charge?
Is there an inactivity fee?
Which orders are you most likely to do and which features are you most likely to use? An online broker that is a bargain for one trader can end up being very expensive for another trader, depending on trading strategies.
Devices
How do you prefer to do you trading; on a desktop computer or on a mobile device? Maybe both? Make sure that the trading platform works well on the device or devices you wish to use.
For trading on mobile devices, double-check that you actually get access to all the features you want and that the interface works well on the small screen.
Alternative access
What happens if he trading platform becomes unavailable – can you get in touch with the broker in any other fashion? Is there a phone number to call? A fax number? A separate email service that wont go down with the site/platform?
Initial deposit requirement
How much money to you have to deposit to start trading in a real-money account? Are you comfortable handing over this amount to an online broker you've never used before?
Leverage / margin trading
Will you be able to make trades using money borrowed from the broker? What are the terms and conditions for this? What happens if you fall below the equity requirement?
Interest on money in the account
Some online brokers will actually pay you interest on money that you have sitting in your account.
Customer support
Does the opening hours coincide with your trading hours?
Can you contact the customer support the way you prefer to contact them? (Phone call, call back service, email, live chat, social media PM, etc.)
Do you have to pay for an expensive call abroad to get phone support?
Is customer support available in a langauge you are comfortable using?
What happens when you contact the customer support with a fairy simple "test question"? Do they answer quickly? Does he answer make sense? Are the nice to deal with?
Reputation
Does the broker have a good reputation among other traders online? Every broker have some disgruntled traders voicing their discontent online, but how does this broker fare in comparison to other brokers, and how serious are the complaints?
Is the broker headquartered in a jurisdiction that you have some faith in, or will you have to take any legal complaint to some less than reputable nation?
Don't be sucked in by the welcome offer
A word of caution: Some online brokers attempt to entice new members with fancy welcome offers. Don't pay much attention to this siren song, because it's not what matters in the long run. Being stuck with a trading site where the available instrument or the fee structure are unfavorable for your trading style will cost you dearly long after the sweetness of the welcome package has gone. A nice welcome package can be the icing on the cake, but you shouldn't pick the cake based on its icing.